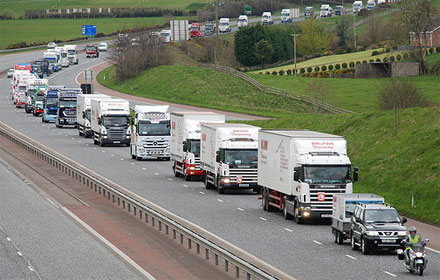 Dungannon Truck Run – Sunday 29th March 2015
Gates open at 9.30am
Truck Run Rolls at 1.30pm
Everyone Welcome!
Location: Dungannon Mart (Granville) BT70 1NJ
Dungannon Truck Run is now in its seven year. When we first started back in 2005 at the then Glenngennon Hotel, now Donnelly's car sales, we could never have imagined how successful the event would become. Since moving the event to Dungannon Farmers Mart in 2007 Dungannon Truck Run has established itself as Irelands favourite trucking festival. The event attracts Lorries and trucks from all over Ireland and the UK with more families and spectators joining in the fun and festivities year on year.
Last year we introduced an annual awards ceremony which saw an array of trophies and cups been presented to drivers and their trucks for the title of "Best Dressed Truck", "Queen if the Road" See below for full list. Over the past seven years Dungannon Truck Run has raised thousands of pounds for our children's charity Sporting Hearts www.sportinghearts.org and we would like to take this opportunity to thank all the drivers and truck companies who help make this wonderful truck event possible.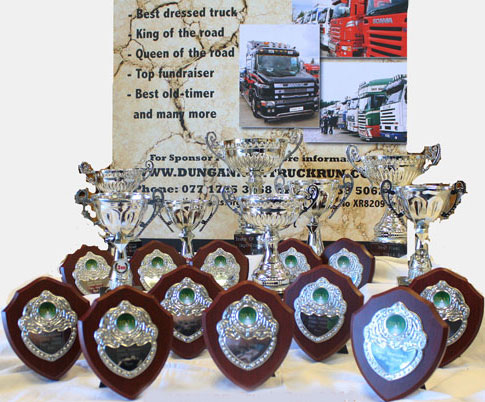 Presentations Dungannon Truck Run 2014
Truck off the show
Best Airbrush/graphic's 1st 2nd 3rd
Best fleet
Top Bullnose
Queen off the road
Top fundraiser
Best vintage
Best Scania 2006 – 2015
Best Scania 2000 – 2005
Best Scania 1990 – 1999
Best Scania 1980 – 1989
Best Volvo 2006 – 2015
Best Volvo 2000 – 2005
Best Volvo 1980 – 1999
Best Mercedes
Best Renault
Best Man
Best Erf
Best IVECO
Best DAF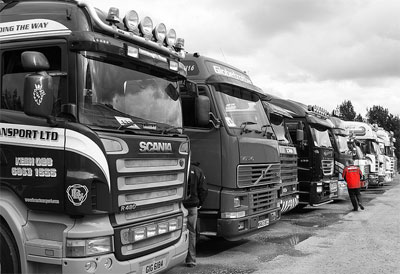 Dungannon set for truck run
It's that again, time to get those trucks washed and polished up for the popular "Dungannon Truck Run", now in it's seventh year and fast becoming one of Ireland's top truck 'n' events.
With over 200 trucks in attendance at last year's show it's hoped to see even more this year, regardless of make, model or age. There's sure to be a category to suit everyone with over 20 presentations to be made at this year's show from "top bullnose to "best graphics" to "best fleet", "top fundraiser" to "Queen of the road" and many more. Presentations will take place on the return of the trucks to Granvile.
This is an ideal chance to meet old friends or maybe even meet some new ones. A great opportunity to view some fantastic trucks. There shall be plenty of opportunities to see the convoy on-route, with the trucks passing through Coalisland, Stewartstown, Cookstown, Donaghmore, Castlecaulfield and Dungannon before they return to Granville.
Everyone Welcome!
More info to follow soon.
---
---
Safety
(Start/Finish: Granville Mart, Dungannon)
– All participants must be fully insured and carry an appropriate licence.
– All participants must follow the rules of the road.
– Please follow instructions of Truck Run/Sporting Hearts Marshall's.
– Marshall's do not stop traffic.
– No speeding or overtaking please.
– Please leave a space between you and the vehicle in front of you to allow other road user's the freedom of the road.
– Please show due care and attention at all times to other participants and road user's.
– Please have a safe and enjoyable day and enjoy the craic…
---